We had a great time looking at tree silhouettes in our yard this past week. There were many different shaped trees to look at! We have maples, pines, pin oak, crab apple, tulip poplar, and more!
M5 picked a maple to study. It has a wide, egg shaped silhouette.
Below are a few tree silhouette pictures from our yard. I took them near dusk several weeks ago.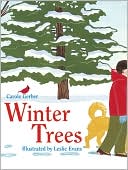 This book was a good resource
for our study:
Winter Trees by Carole Gerber
Little Sister, M5, feeding the birds under a flowering crabapple tree. The birds and deer love eating the berries in the winter. When a new snow falls, this trees has a lot of deer tracks under it.
Join us next week for our Winter Insects Nature Study. Details here on Barb's Blog – Handbook of Nature Study!